2010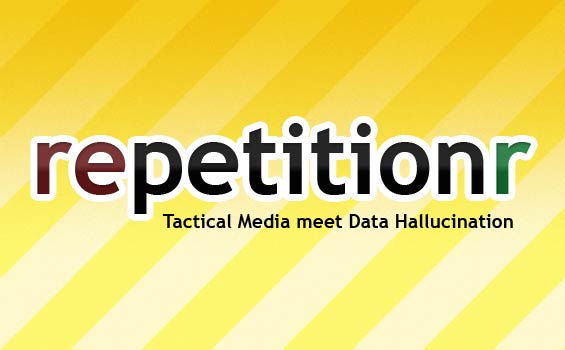 Statement
"Today the enemy is not called Empire or Capital.
It's called Democracy."
* Alan Badiou
"Democracy is becoming more an empty ritual,
devoid of the ability to deliver true alternatives
and true choices."
Franco Bifo Berardi
"A lie is the beginning of a new story.
That's why we love Art."
Oscar Wilde
ONE MAN ONE VOTE?
NO MORE. ONE CLICK IS ENOUGH.
Representational democracy is a thing of the past. Its days are numbered. Indeed, representation can no longer be said to be representative. It's time for change. Leave behind your out-moded street activism, public demonstrations, megaphones. Protest is no longer to be found on the streets.
Instead get involved in the new global networked euphoria, take your data-body to its limits and discover how activism can be now carried out comfortably from your armchair.
EMBRACE THE NEW ERA OF ARMCHAIR-ACTIVISM.
A MILLION PEOPLE CAN'T BE WRONG.
In the post-idealist era the success of a campaign is increasingly reliant on instantaneous statistical surveys promoted to shift opinion towards defined positions.
Created by the imaginary art group Les Liens Invisibles – already known for others internet spoofs like Subvertr.com, A Fake is A Fake and Seppukoo.com – Repetitionr.com is the ultimate social petition platform that grants the success of every campaign proposed, offering the most advanced internet technologies to make participatory democracy a truely user-centered experience. Just a click and Repetitionr will fill your petitions with millions of self-generated fake signatures indistinguishable from the real ones.
TIRED OF WORDS?
JUST PUT REPETITIONR INTO ACTION.
Repetitionr needs just a few clicks to demonstrate its magic: just create your petition by writing down the title and statement, choose the number of signatures you want and from which countries they come from, then simply sit down and enjoy the the power of data hallucination working on your behalf. Don't be afraid to exaggerate: Repetitionr will produce up to 1,000,000 signatures!
You are no longer alone in your opinions. Make a Re-Petition and announce to the world that thousands and thousands of people can't be wrong!
Media Coverage