2008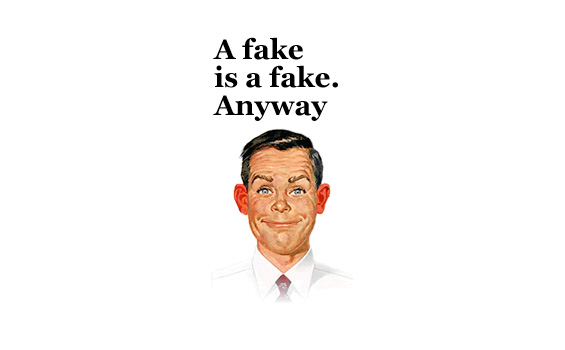 Techincal informations
Website
Statement
Disillusion 2.0?
You were told that a new democracy of communication was possible, that the lies of corporate media were to disappear and that your voice was going to play an active role in the formation of public discourse.
You were deluded into believing that even the world, this world, would become a better place through detailed diffusion of low-cost technologies, through the birth of telematic networks and the establishment of blogs and social networks.
While the watered-down fantasies that came with the rise of web 2.0 are being dissolved, a bitter consciousness remains: that communication itself, after all, is an illusion. That information, however probable it may seem, is still a fiction and that a fake, in the end, is only a fake. Anyway.
Experience the power of detourning communication!
Rising directly from the ashes of the blogosphere, the imaginary group Les Liens Invisibles is proud to present A Fake is a Fake, the ultimate platform dedicated to fake publishing, that will finally render your communication strong, incisive, and paradoxical.
Thrust your voice beyond the limits of reality and explore the new frontiers of detourning communication: you can finally speak with the voice of Power.
Simple, Fun, Radical. Take a tour of fake publishing new features …
* Easy, intuitive content management
* Simple installation and radical communication
* Open, flexible architecture based on the WordPress Template System
* Rich list of free Fake Themes
* Free "fake is a fake" domain accounts on our servers
… and watch what corporate media say about fake.
"The most important revolution of its kind since the likes of Gutenberg!" Repubblica
"Plus qu'une œuvre d'art à succès, un phénomène de société" Le Figaro
"We can only guess that fake publishing will mark the dawning of a new information era." The Financial Times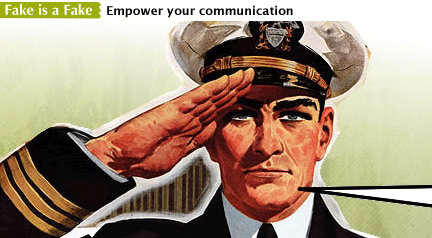 Media Coverage