2010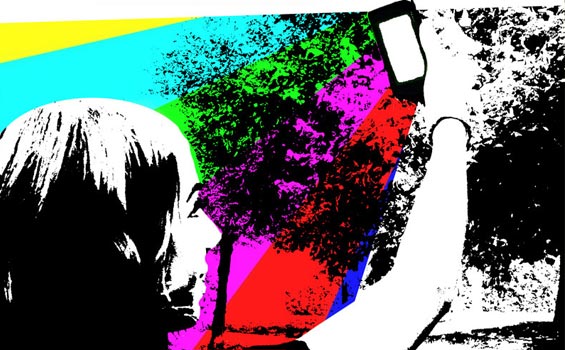 Statement
"What is invisible is essential to the eyes"
Gregory Cooper
RIOT: GET LOST IN TURIN
A tree falls in the center of Turin when no smart phone is around to experience it. Does it make a sound out there? Not so far, a voice: "Hello! hello? hello!? …" It's Angela who's obsessively speaking to its mobile phone while the vision of some large glossy avatar protesting in the public square appears in front of her. "That's quite a nonsense" says Marco looking at that crazy Monument to the Banana Revolution from its smart phone screen. "This is not exactly what I was expecting from Augmented Reality!"
Beside them, standing in the middle of the street and staring at the invisible among the general curiosity of urban passers-by, Guy McMusker affirms: "Stop watching obsolete computer screens. It's time to reshape reality. Internet is here and now. Reality is out there."
AUGMENT YOUR POINTS OF VIEW
Commissioned by Piemonte SHARE Festival 2010, Reality Is Out There (RIOT) is the latest project from the internet art duo Les Liens Invisibles. First attempt of a series of imaginary interventions on urban landscape through the tactical use of Augmented Reality (AR) technologies, the project – started in Turin during, last November and is currently ongoing – it is a sort of collective hallucination: invisible to the eyes but visible through the viewer of a smart phone device.
The artists, well known for their online manipulations, have unleashed from the Internet a joyful and colorful array of materials (avatar icons, sculptures of glossy web interface elements, 3D models, illegal mp3 files, porno pictures…) by spreading them out and reassembling them to invent new interactions between the real and the virtual realm.
FIND YOURSELF IN REALITY
Get ready to subvert the use of the popular Layar augmented reality browser app into a sort of paradoxical psychogeographic tourism: public space will become a mere but indispensable medium through which new forms of info-hallucinations can be explored and experienced. Just take a walk around, make your own lonely trip, get lost in your augmented urban landscape, and don't forget to take a picture. At last, you know: Reality is out there.
***********************************************
EXPERIENCE IT
Launch and experience yourself the imaginary interventions through your smart mobile device
@ http://m.layar.com/open/lliriot
A free Layar Aumented Reality browser for iPhone 3GS/4 or Android platform is required.
HOW IT WORKS
@ http://www.realityisoutthere.net/instructions
PROJECT WEBSITE
@ http://www.realityisoutthere.net
PUBLIC SPACE INTERVENTIONS
@ http://www.realityisoutthere.net/interventions
CREDITS
Reality is Out There is a project by Les Liens Invisibles
commissioned by Piemonte Share Festival
as special project for Smart Mistakes exhibition.
In collaboration with the department of Scienze dell'Educazione e della Formazione
For a full list of credits > http://www.realityisoutthere.net/credits
Media Coverage